PSPPD (Programme to Support Pro-poor Policy Development)

PSPPD II - Addressing the Poverty and Inequality Challenge 
Research: Exploring the potential of local food systems for sustainable rural development – A case study of the Vaalharts Area


Funded by the Programme to Support Pro-poor Policy Development (PSPPD II) - Addressing the Poverty and Inequality Challenge, a partnership programme of the Department of Planning, Monitoring and Evaluation, Republic of South Africa and the European Union.
Food systems in South Africa are rapidly changing towards high commercialisation, mechanisation, and centralisation, decreasing the prospects of employment, livelihood diversification, and economic activities in rural areas, thus, hindering a sustainable rural development. Further, current food systems nurture environmental degradation and non-optimal eating patterns in the country. The latter, leading to a high prevalence of malnutrition, such as micro-nutrient deficiencies, overweight, obesity, and increasing prevalence on diet related non-communicable diseases like diabetes and cardiovascular diseases, overburdening the already constrained public health sector. Sustainable local food systems are regarded as a crucial measure to counteract these trends by creating more equitable, empowered, and resilient local communities, particularly in rural areas.    
    
The aim of the PSPPD2 project is to provide empirical evidence on the potential of local food systems (LFS) to contribute to sustainable development among rural resource-poor communities by investigating six sustainability components (economic, environmental, socio-cultural, quality, governance, and health and nutrition) with emphasis on short food supply chains from producers to consumers. The specific objectives are as follows:
To conduct a literature review on changing food systems in South Africa and the impact on rural development.    
To collect empirical evidence on the role of LFS for sustainable development in Vaalharts with its specific implications for economic growth, environmental sustainability, local governance, food safety and quality, socio-cultural aspects, and health and nutrition.
To design sustainability indicators for monitoring and evaluating LFS towards sustainable development.
To design an innovative application for mobile devices that enables the interactive planning of growing sustainable diets at household level.    
To disseminate knowledge on LFS and sustainable rural development to different actors of the local food system and rural development programs.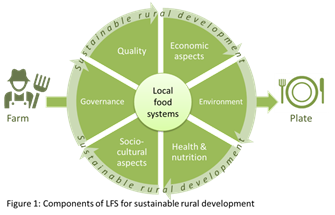 Research team:    
    
N Claasen (NWU): Dr Nicole Claasen is a research fellow at AUTHeR since 2012. She has been involved in food security and nutrition research in South Africa since 2004. Dr Claasen is carrying out multi-disciplinary research on sustainable diets in Vaalharts since 2012. Her research and academic focus is on sustainable livelihoods, food security and nutrition; and sustainable food systems and community development.
N Covic (NWU): Dr Namukolo Covic is the Country Research Director for Africa at the International Food Policy Research Institute (IFPRI) and an extraordinary lecturer at the Center of Excellence for Nutrition. Her research focus lies in food and nutrition security, agriculture to nutrition linkages, micronutrients, micronutrients and cognitive function, and nutrition programme implementation. Dr Covic is currently working on research projects that integrating nutrition into vegetable gardening and that strengthen the nutrition component of the comprehensive Africa Agricultural Development Programme.
A Gildenhuys (NWU): Dr Anél Gildenhuys (LLB, LLM, LLD) is a senior lecturer at the Faculty of Law. She teaches Contemporary Foundations of the South African Law as well as Enrichment Law for undergraduate students and Research Methodology for post-graduate students. Dr Gildenhuys has published on land reform and water issues as well as the right to have access to sufficient food and food security.
M van der Hoeven (NWU): Dr Marinka van der Hoeven is appointed as a post-doctoral fellow at Africa Unit for Transdisciplinary Health Research (AUTHeR) for this action. Previously she was the research co-ordinator for the South African leg of the Biodiversity study (partially funded by the PSPPD1) that focused on agricultural biodiversity to improve livelihoods, and nutritional and health status, and to establish more sustainable production systems in the North West Province of South Africa. Her personal research interests are nutrition-sensitive agricultural development and food-based approaches as sustainable strategies for eradicating hunger and malnutrition, including micronutrient deficiencies.
E Idsardi (NWU): Dr Ernst Idsardi is a senior lecturer in agricultural economics. His research focusses on agricultural development and international agricultural trade. He has worked on numerous research projects for both national (e.g. DAFF, NAMC, RBA, DRDLD, NWPG, FSPG) and international stakeholders (e.g. World Bank, OECD, Meat Board of Namibia) in the agricultural sector.
D Jordaan (NWU): Prof Jordaan is the Director of Vaal App Worx. His expertise lies in the domain of Databases, Information systems, Software Engineering and Mobile computing with his main research interest in mobile computing for the last four years. He has produced several applications in the two years of Vaal App Worx' existence – for example: Fish App (Research): A database with information about fish species of South Africa. Users can recognize fish species on different criteria; Budget Calculator: Performs budgeting on mobile device.
S Lemke (academic associate): Dr Stefanie Lemke is the Representative of the Department of Gender and Nutrition at the University of Hohenheim, Germany. Her collaboration with NWU dates back to 1999 as she did her PhD study in the THUSA study and was a post-doctoral fellow in the FLAGH study. Currently, she is collaborating with N Claasen in the Sustainable Diets Project in Vaalharts. Her expertise comprises food and nutrition security, sustainable livelihoods, local food systems, sustainable diets, gender, right to food, qualitative, mixed methods and rights-based approaches.
L Sandham (NWU): Prof. Luke Sandham is associate professor at Geography and Environmental Studies. He holds a PhD in Geography and has wide research interests in Geography and Environmental Management, with research expertise focused in Environmental and Social Impact Assessment (EIA and SIA) effectiveness in South Africa.
J Stander (NWU): Mr. J.H. Stander is a lecturer at Geography and Environmental Studies. He holds a M.Sc. in Geography and Environmental Studies with focus on water quality surveys.
For further information about research related to local food systems and rural sustainable development, please contact Dr Nicole Claasen