What is Occupational Hygiene?
Occupational Hygiene is the discipline of anticipating, recognising, evaluating and controlling health hazards in the working environment with the objective of protecting worker health and well-being and safeguarding the community at large.
Take a look at a video of the British Occupational Hygiene Society for more information regarding Occupational Hygiene.
For more information click here.
In Occupational Hygiene the following work related stressors are investigated:
Noise
Vibration
Electromagnetic and ionising radiation
Temperature
Pressure
Hazardous chemical substances
Hazardous biological substances
Ergonomics
Dust and fibres

What does the BHSc in Occupational Hygiene degree entail?
The purpose of this four-year professional qualification is to educate and equip students with the necessary scientific knowledge, specific and specialised skills, including problem solving, and relevant competencies required to become Occupational Hygienists and register with the Southern African Institute for Occupational Hygiene (Visit the website).
In South Africa, legislation as embodied in two Acts, i.e. the Occupational Health and Safety Act (Act 85 of 1993) and the Mine Health and Safety Act (Act 29 of 1996), regulate the health and safety of workers in the general industry and in mining. Both acts and their respective regulations pertinently define Occupational Hygiene and stipulate duties to be performed by Occupational Hygienists.

Manner of presentation and duration of programme
The programme is presented full-time and covers a period of four (4) years.
Note that the language of instruction will be Afrikaans, but simultaneous interpreting into English is available.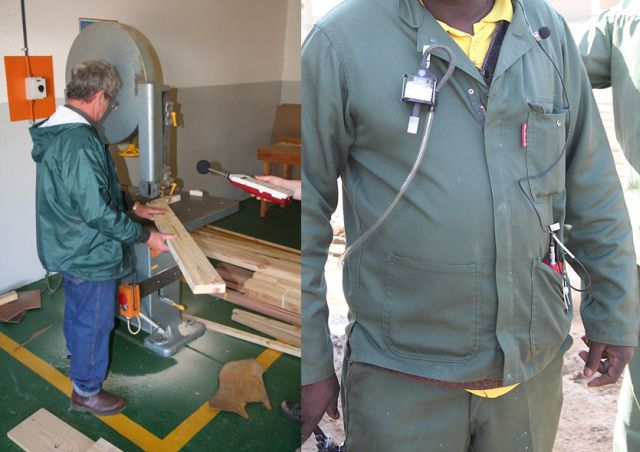 What are the admission requirements for the degree?
National Senior Certificate with university entrance;
Mathematics and Physical Science at level 5 (60-69%); recommended Life Sciences or Physiology at level 4 (50-59%);
A pass at level 4 (50-59%) in the language of instruction on either the Home or First additional Language level;
A minimum APS-score of 27, and selection is subject to a selection test and available capacity.

What is the selection process for the degree?
Selection is based on a scientifically developed selection model, i.e.:
An academic component (matric average).  Students must bring a certified or signed (by the headmaster) statement of all their available marks or symbols and submit it to the Admissions Office. The June examination marks must be submitted as soon as it becomes available.
All applicants must hand in a Letter of Intent with their application documents.
Psychometric components (aptitude, interest, personality traits as well as study habits and attitude).
For more information on the selection process the complete selection document can be viewed here.

Postgraduate studies
After completion of this degree, you will be able to continue with a MHSc and PhD degree in Occupational Hygiene.
For more information, visit the Occupational Health and Hygiene Research Initiative (OHHRI) page.

To apply, click here