When we designed our facility, we endeavoured to consolidate the best practices that we had identified during a dedicated, international fact-finding mission. A number of green aspects have been incorporated into the design, such as the capturing and reuse of heat.
The expansion of the expertise in preclinical drug development can be of great benefit to South Africa as seen in the context of both the knowledge and the bio-economies:
Many pharmacokinetic studies have been performed by the researchers and postgraduate students in the past three years.
The progress shown in establishing standards that will comply with ISO and GLP in the PCDDP
Vivarium

Figure:  IVC cages in racks with staff at cage change stations in SPF facility.
The PCDDP consists of two floors that are completely separated in terms of access and performance. One floor is dedicated to studies requiring good laboratory practice (GLP), and the other to specific pathogen-free (SPF) studies.
The facility's environmental conditions are continuously monitored and controlled by an advanced BMS (Building Management System) and validated DMS (Data Management System). The primary environmental and facility control is managed from an internal plant room, where the individual rooms can be isolated from the HVAC (both heating ventilation and air conditioning) system.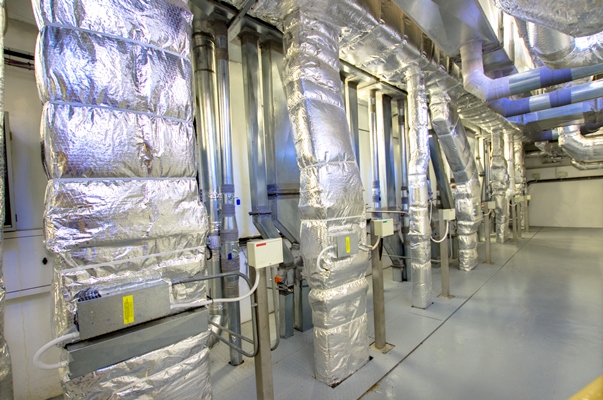 Figure: The external plant room is the heart of the HVAC system, where all air supplied to the facility is HEPA filtered and cooled.
Lighting in the facility can be managed in terms of light intensity and photoperiod. All procedure rooms are fitted with infra-red lighting sources to facilitate after hour activities. When needed night and day cycles can be reversed.  A light dimmer system imitates the natural transition from day to night and vice versa.

Figure: Receival of goods occur through autoclave and decontamination chamber.
Biometric access to the facility is tightly controlled, so once you are through those doors, the only people you will see are researchers with ethical approval for their studies and the staff of the vivarium.
Bionalytical Laboratory
Preclinical drug development research requires bioanalysis of biological samples.  A functional bioanalytical laboratory with LCMS/MS has been established and analysis of the blood samples of the first study (determination of tenofovir in blood samples) has been performed. The system and laboratory has been validated and is included in our application for GLP accreditation from SANAS.
Our GLP compliant bio analytic laboratory have a fully functional Ab Sciex 4000 QTRAP LC-MS-MS system. Because of the high sensitivity and selectivity of the LC-MS-MS we can perform quantitative and qualitative analyses. We specialize in quantitative analyses of molecules extracted from plasma and tissue. Fast and reproducible methods can be developed according to the compounds measured and the clients needs. All results are validated within each run, and methods are validated with between run accuracy, within run accuracy matrix effect and recovery of compound.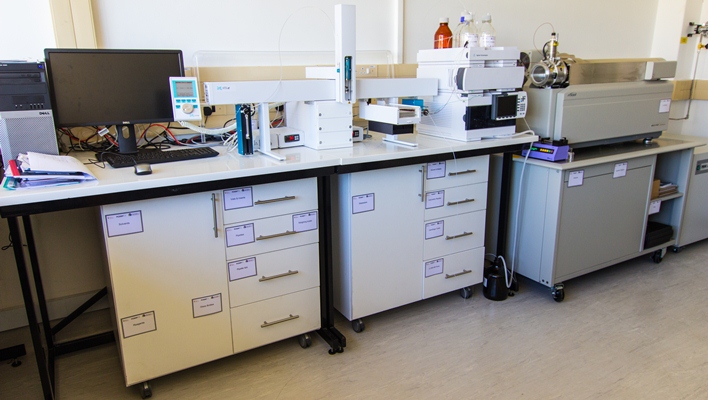 Figure: Bioanalytical laboratory of the PCDDP with the LCMS/MS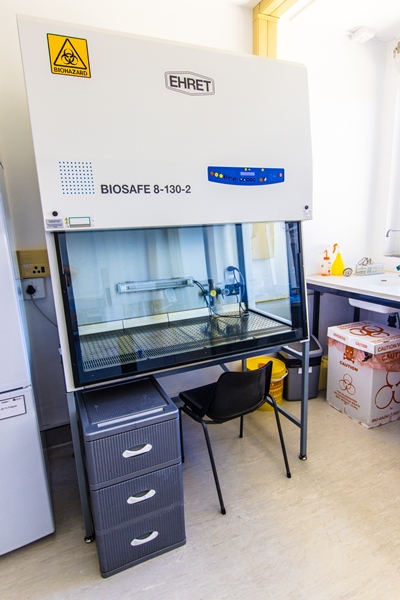 Figure: Confocal laser scanning laboratory associated with the PCDDP.
Pilot plant
The Formulation Pilot Plant is where Pheroid® technology takes shape. Pheroid formulations for GLP studies, research, and preclinical as well as clinical trials are produced. As an outstanding example of academic industry, students are taught the principles of good laboratory and especially good manufacturing processes. Pharmaceutical, neutraceutical, cosmeceutical, cosmetics, animal health and agricultural products are combined and entrapped into this unique and patented delivery system. Advances in these fields with regard to efficacy, bioavailability, lowered dosages and so much more are created.
GLP (Good laboratory practice)
The objective of GLP Studies:
To perform contract studies for clients
To develop expertise in different types of studies
To train scientists in translational drug development
To align research efforts of different disciplines and institutions
SPF (Specific pathogen-free studies)
The objective of SPF studies:
To perform batch releases for biologicals
To develop progressively more sophisticated models
To teach scarce skills – preclinical drug development.