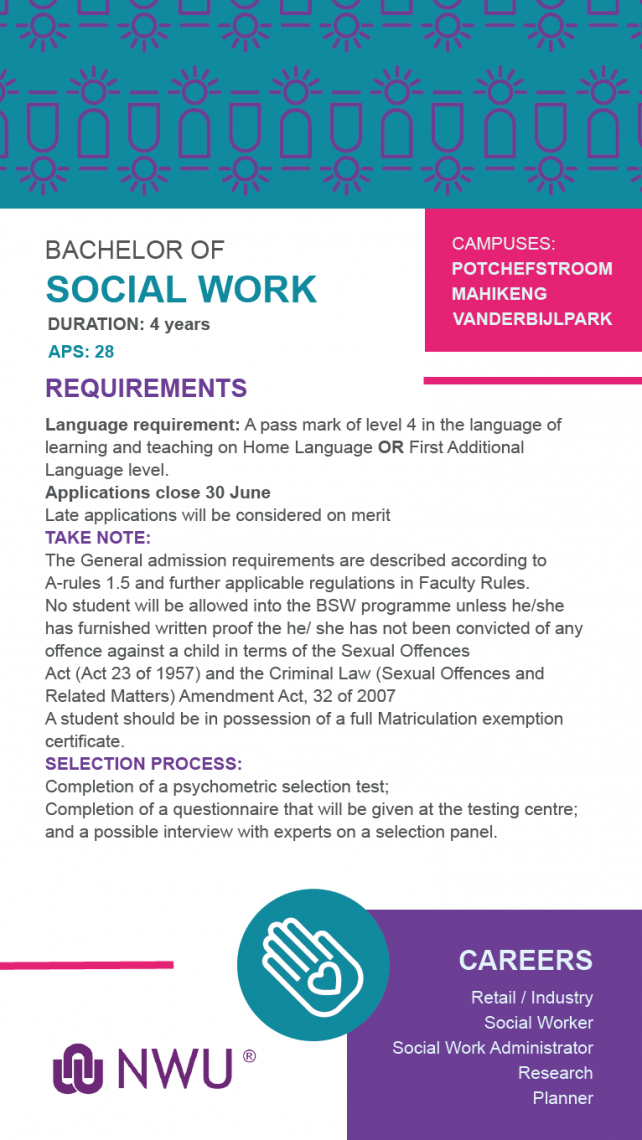 What is Social Work?
Social Work is a profession. Which means that the student will undergo special training before one may practice as a social worker. The field of work includes a wide range of services which can be rendered to individuals, groups and communities. Professional service rendering occurs with regard to a wide variety of issues in order to help people to help themselves.
What does a Baccalaureus of Social Work entail?
The Social Work profession is in need of talented young individuals to help South Africa develop its most valuable resource – its people. For this qualification, one (1) program is presented on all three campuses. It is a professional qualification which enables you to register at the South African Council for Social Service Professions. The objective of this program is to train students as social workers to provide therapeutic services and developmental work to society in order fulfil their role as a social worker stipulated by the South African Council for Social Service Professions.
Manner of presentation and duration of programme
Social work is presented full time for a duration of four years. During the four years, you acquire experience in a variety of social work settings and environments that include Child and Youth Care Centres and Non-Governmental Organisations. You gain experience in all social work methods that include case work, group work, community work, management and supervision and research,
In general:
This is a fulltime four year qualification
You will do practical work from the second year
In your 4th year, you have a 3-month internship
During your second year you will register as a student social worker at the South African Council for Social Service Professions.
During the 4 years you acquire a variety of experience in different fields of services that include:
Child and youth care
Working with families
Working with the elderly
Community service and
Group work.
What are the admission requirements for the degree?
No student will be allowed into the BSW–programme unless he/she has furnished written proof that he/she has not been convicted of any offence against a child in terms of the 61 Sexual Offences Act (Act 23 of 1957) and the Criminal Law (Sexual Offences and Related Matters) Amendment Act, 32 of 2007.
A student should be in possession of a full Matriculation exemption certificate.
APS-score: The required APS-score is 28 (Life orientation will not be taken into account).
Language requirement: A pass mark of 50-59% (level 4) in the language of teaching and learning concerning home language or first additional language level.

Contact person:
Ms Aney Van Aswegen
E mail: 29024684@nwu.ac.za

Dr Tessa Van Wijk
E mail: tessa.vanwijk@nwu.ac.za
 
What is the selection process of the degree?
Prospective students will be subject to a selection process consisting of the following components:
Completion of an online selection questionnaire.
Possible interview with experts on a selection panel.
Postgraduate studies
Successful completion of the program grants admission to a Master degree in Social Work. Admission is subject to a selection process and available capacity in the subject group.
Short learning programmes
Adoption as a specialized field in Social Work
The course is currently available and the next course starting on 26 July, 2021. 
Fees for the short learning programme for this year are: R 6000, excluding the training material (R 500 training manual and Post-Net fees).
The programme runs over a period of 4 months. It is completely online and once you register you will have access to all the course study units and assignments.
If you are interested in enrolling for this course, kindly click here.
The following courses are available as from year 2022:
Short learning programme on advance psychosocial interventions in adoption

Psychosocial interventions in inter-country adoption
These courses would be of great benefit to any emerging social worker with child protection experience that is interested in getting involved in the adoption area of service delivery. 
Click here for the information pamphlet or you can contact Dr Hanelie Malan for further information.
Career opportunities
Occupation in public service (SAPD, SANDF, DSD), private sector (private practice) or the academia. Other institutions also enrol social workers like NGO's (Child Welfare, NG Welfare etc.), churches, schools and large companies.